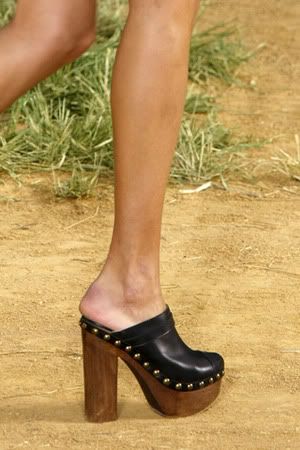 With all of the snow we have recently received in the eastern United States, I can't wait for the Spring season! I have put together a list of some of the trends that will be seen. I also made sure that the items listed below are wearable trends, since I am a working mother.
Top Trends for Spring 2010:
1. Trench Coats - I highly recommend that everyone get one! Every store I have been in recently is carrying these. Target has a great selection of trench coats in bright colors for those on a budget, only $39. These are essential to great style during the rainy weather.
2. Patterned Skirts - I suggest getting a skirt with bright bold print. These skirts are a lot of fun and look great with the new spring sandals.
3. Boyfriend blazers - This style can be pulled off well when paired with a feminine piece such as a sequin tank.
4. Torn Denim - Pair this with a bright blazer and you will definitely have style.
5. Clogs & Wedges - The IT shoe for the season! These can be easily worn with a little dress or skinny jeans.
6. Lace - Lace has been spotted on just about everything. From dresses, tops, tights, shoes and accessories. There are tops and dresses with a little lace, and others that are all lace. You choose!
7. Floral dresses -From big pops of colors to tiny prints - it's all about being boho chic this season.
8. Sequined tops - All about the glitz & glam, dress them up or go casual as they look great with a boyfriend blazer.
9. Nautical - Stripes galore! This classic look never goes off our radar. Need some inspiration? Think Audrey Hepburn. Pair a boat neck tee with a classic blazer and skinny jeans to update.
10. Pants - Linen & crisp white pants are the way to go this spring. Pair them with leg-lengthening heels for a luxe look or opt for a relaxed style with gladiator sandals.